Over here it's the last day of winter (hopefully), after a week of record negative temps for our region this time of year. This morning looks like...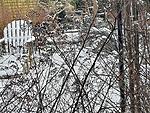 2089 days, but I noticed I stopped watching that number every day, and had to look it up. Been knee-deep into the non-profit project, very interesting, meeting all kinds of new people, each with their own specific problems (autism & alcohol for example).
I will start a thread (in this same section) about that shortly, maybe Icehouse will chime in too, specifically about recovery, and aimed at a "broader" public than just our group of people who suffer from PN.
I have the feeling we are a shop with an "opens soon" sign, yet there are already 50 people waiting at the door for us to start.

No pressure, surely.