Congrats & excellent!

Keep with the vape as long as you need. You may get bored of it and stop that too, but if you crave "analog" cigs again, just pick up your "fix".
And if you need advice, please ask. I have been into vaping for almost 5 years now, can build my own devices, make my own e-liquids, read all the scientific studies, did presentations to docs ... I actually wanted to start my own line of e-liquids, but the EU law as implemented in Belgium does not allow online sales, and I don't need the hassle of brick&mortar shops etc.
My Canadian buddy even wanted to pump some serious money in my endeavor, so you can imagine how taken aback we were when we saw that the law in Belgium was stricter than the EU law.

Anyway, water under the bridge.
View from my office seat. (most of the older stuff is packed up and stored in the attic. I can make a museum of vaping with all that.

)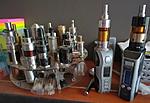 Edit: 2149 days. As said previously I stopped checking, but it's good to remind me now and then. (on the 2nd...) 1577 days smoke free.