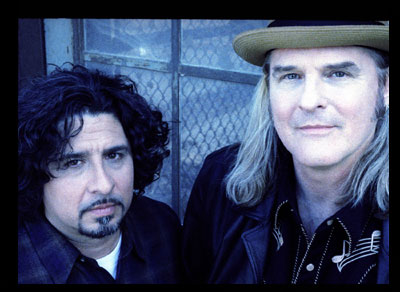 Eric Lowen and Dan Navarro,
listen to them.
http://www.myspace.com/lownav
website
http://www.lownav.com/index.html
http://www.lownav.com/perfsong.html
https://secure2.convio.net/alsa/site...upqnx51.app24b
Musical Duo Sees Opportunities in Working with ALSA
By Stephanie Dufner, ALSA Communications Coordinator
The performers and recording artists Lowen and Navarro, who held a web cast concert that benefited ALSA's Greater Los Angeles Chapter in April 2004 after one of the group's performers Eric Lowen was diagnosed with ALS, are doing more to help ALSA.
During their recent visit to the National Office of ALSA, (right) Eric Lowen and Dan Navarro (aka Lowen and Navarro) discussed how Lowen's ALS has affected their personal and professional lives.
During their touring schedule, which runs through July 2006, the musical duo encourages ALSA chapters to host information tables in venues where the band will hold concerts. "It feels very fitting to be able to talk about it (ALS) on stage and have somebody out in the lobby to answer the questions that are going to come up," Lowen said. "I really like that."
The web cast raised nearly $8,000, including $5,200 from the sale of a $50 DVD set. Fans across the country and around the world viewed the live web cast where the two singer-songwriters reunited with members of their original band with whom they had not played in 12 years. To date, the event has raised almost $13,000.
"We wanted to do something directly for the L.A. Chapter because they were directly helping me," explained Lowen, of the neo-folk band.
Through the Greater Los Angeles Chapter, Lowen has had access to a scooter and a scooter lift, a walker and a wheelchair. A tall musician with long flaxen hair, he has worked with case manager Pedro Loza at the chapter; Loza gave the singer-songwriter the phone number of the chapter's executive director, Fred Fisher.
"The chapter has a tradition of engaging families in the fight against ALS," Fisher said. "Each family finds their own way to participate, make an important difference. Dan (Navarro) and Eric use their musical talent to increase awareness and raise funds to support the chapter's patient services programs as well as search for a cure."
Lowen and Navarro have played in more than 90 cities internationally during the past 16 years; some locations have included Washington, D.C; Minneapolis; Chicago; Oslo; Stockholm; and Cannes, France.
Recently, Lowen and Preston Sturges penned a song titled, Learning to Fall, a tune that explores Lowen's reactions to having the disease. The song appears on an album the band will release.
Lowen believes that his diagnosis has affected his working on stage in front of live audiences. "I feel more of immediacy when I'm performing. I feel more of an emotional connection." He uses a walker when he's on stage, and their road manager must carry him up steps to the stage.
Navarro agreed with Lowen's assessment about his performance abilities. "Guitar playing has deepened with Eric. He's coming from a more spiritual place in terms of what he's doing."
To read Lowen and Navarro's concert schedule through 2006, visit
http://www.lownav.com/shows/index.html
.
To purchase the band's DVD that benefits the Greater Los Angeles Chapter, e-mail one of the following addresses:
tonya@alsla.org
or
gretchen@alsla.org
. Note you would like to order Lowen & Navarro's – Live at Kulak's Woodshed.
Upcoming Shows
For Eric Lowen and Dan Navarro, the road is home, the stage is the runway and the studio the garden. Songs of loss and change, hope and acceptance, fear and deliverance color their six studio albums. Voices locked in synchro-step weaving in and out of the flow, telling stories of real lives in the balance. The connections between singer and song, between audience and stage melt into a rich brew that brings them deeper into the heart of the matter and that much closer to the fire in the hearts of their people. There is no road too long that their people don't travel far and wide to see and hear them. As it has been for nearly twenty years, it still is today.
website
http://www.lownav.com/index.html
Life has a way of turning on a dime and a matter of a few hours or a few days or even a few minutes everything can seemingly come unglued. On March 17th, 2004, I was diagnosed with Amytrophic Lateral Sclerosis or more popularly "Lou Gehrig's Disease".
From the June, 2006 issue of Performing Songwriter Magazine
Survival, Success and the End Of The Road
by Eric Lowen
I count myself among the lucky ones. Although my partner Dan Navarro and I have never had the kind of across-the-board success we may have hoped for when we started out, we have made our livings at music for a long, long time. We finally got an opportunity to make our own record in 1990 after a few years of having some success as songwriters and many more years before that of laboring away in nearly total obscurity. It was the chance of a lifetime and we were pretty convinced that it was going to be "once in a lifetime". The fact that it turned out not to be so and that we would go on to make many more records and tour for the last 16 years, still leaves me black and blue from pinching myself. We are journeymen, working hard for a relatively small return, but it has been the most satisfying and rewarding experience I could ever hope for. We have, through luck and persistence and a commitment to our long-running motto, "we try not to suck", connected with a remarkable group of fans and friends who have kept come to see us, bought our records. and supported us in every way. If they are to be believed, we have made a difference to many of them through proposals, marriages, divorces, child rearing and even the loss of a child. That is a kind of success that would have been hard for me to imagine, but has been ultimately so much more meaningful than all the money we never made.
Life has a way of turning on a dime and a matter of a few hours or a few days or even a few minutes everything can seemingly come unglued. On March 17th, 2004, I was diagnosed with Amytrophic Lateral Sclerosis or more popularly "Lou Gehrig's Disease". ALS is a neuro-muscular disease involving the brain cells that control the voluntary muscles. The brain cells die, the muscles atrophy and you are left paralyzed with very little or no muscle control in a matter of months or a few years. Stephen Hawking, the famous physicist is a well known survivor of the effects of the disease, having been diagnosed in 1964. He is the longest known survivor, but he has assisted speech, a ventilator for breathing and a feeding tube. In my mind, I saw the familiar image of him hunched over in his powered wheelchair when the doctor gave me my diagnosis on that St. Patrick's Day morning.
It had only been the day before that I had returned from Northern Virginia where Dan and I were recording our ninth Lowen & Navarro record. We were working with a great cast of musicians and a fine producer, John Whynot, and the creative juices were flowing. The studio was up a flight of stairs which already was quite difficult for me to climb, but is is a far cry from where I am now, barely able to take a few small steps while holding on to something. During the sessions we had recorded a song by Dave Moore called, "All the Time In the World". It was rare for us to record a song we did not write, but it was for a planned future record of all cover tunes and besides, the meaning of the song hit me very hard because for about a year I had noticed changes in my body and I knew that something was horribly wrong. During the rest of the recording, my sickness became the "600 pound gorilla" hanging over us.
For me it was a time of decisions and some confusion about how to proceed with my life. I was engaged to be married and the family that was going to be created would include five ten year olds (her triplets, my twins, three days apart). There was a school of thought that I should immediately quit my nutty job as singer-songwriter touring musician. There were also some questions directed at my wife in the nature of " are you still going to get married?" Well, she did still marry me, I have lots of 12 year olds now AND I kept my crazy job in spite of becoming disabled. It became really obvious to me that what I have spent my life doing is much more than just a job, it's more of a "calling" as my clergyman father would have referred to it. Music has huge elements of something magical in it and it has the power to reach people in ways that nothing else can. I don't want to paint it that I have continued out of some sense of responsibility to the audience, although I do feel one, I want to do what I am doing, and in the twenty-odd years I have been pursuing it, it has become a large part of who I am. My partnership with Dan Navarro has been a very long one too and with the many musicians and writers we collaborate with. They make up a musical community that has been a huge support for me through these tough times.
What has happened for me is that the experience of being a performer and a songwriter has deepened in ways I could never have foreseen. Dan and I have always tried to make sure that we wrote about issues that mattered to us. In some cases it may have hurt us (on one release we had not one, but two songs with the word "middle-aged" in them . . . not a wise move for getting radio play). We have written plenty about relationships and growing up. While that never got us a mainstream audience it did resonate with the amazingly loyal fans we did connect with. Now I have a new sort of viewpoint to add with the addition of a serious illness. I have written a few songs that deal with it directly, but what strikes me is that the things I am facing and the lessons I am learning really apply to all of us, we all face inevitable physical decline at some point and of course we all die. A dear friend of mine gave me a good perspective on it at the time of my diagnosis when she said " we are all on a journey. . . you just have a better map."
A songwriter named Michael Smotherman once told me "in this business, survival is success." I have survived and I actually feel successful, although some might not agree if they checked my tax returns. Now I am facing the end of all that in the uncertain future dictated by a serious illness. Eventually, I will no longer be able to make my guitar speak, that friend who got me through puberty and still comforts me today. Finally my voice will be mute as the disease takes its inevitable course. That will be harder than I can express, and I am sure that well before then, I will have had to stop flying around the country doing gigs. Right now though, I am thrilled to still be able to do what I truly love and feel I was born to do. I am able to educate audiences about ALS and still able to make a connection that matters, both to me and hopefully to them. If there is distaste on their part watching me be hoisted on the stage and placed in a chair, they don't show it. They don't even mind that my fingers can't do all they once did on the fingerboard, what seems to matter is tht the music is still doing the magic that music does and that the connection still happens.
This job is not a chosen one, it chooses one. It has never been easy and it is getting harder now, but I would never trade the experience for anything. The mysterious and magical thrill of writing a song, the charge of being in front of an audience, and also the exhilaration of speaking in the language of music with other musicians. It will end for me, but the songs will go on and the memories are mine forever. I think I really understand what Lou Gehrig meant in his famous retirement speech when he said, "Today I feel like the luckiest man on the face of the earth."