But for new folks they are good shots of the anatomy of what is going on.
Di
The thoracic outlet is a tiny space behind the collar bone in front of the first rib, the major neurological and vascular bundles pass through here; if you have c-ribs, then that space is even more resticted. It is pressing on the nerves that travel to the fingers.
http://www.ama-assn.org/ama1/pub/upl...lex_how_to.pdf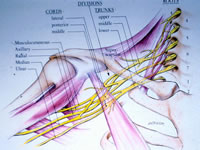 Thoracic Outlet Syndrome
Causes Symptoms Treatment
What is Thoracic Outlet Syndrome?
Thoracic outlet syndrome (TOS) results from a compression of the nerves that pass into the arms from the neck (brachial plexus). The corridor through the area between the neck and the armpit (thoracic outlet) is narrowed causing the compression. This compression causes pain in the shoulder, arm or hand or some combination of the three.
This condition is difficult to diagnose and many times, the doctor will need to rule out other conditions before making a diagnosis.
Causes of Thoracic Outlet Syndrome?
In many cases, no specific cause of TOS is found. However, any other condition, which results in growth or movement of the tissues near the thoracic outlet, can cause the syndrome to form. Examples of other conditions includes:
Muscle enlargement
Injuries to the area
Extra rib from the neck at birth (cervical rib)
Large callus from a healed clavicle fracture in an adult
Tumors at the upper part of the lung
Poor posture, especially in women with large breasts
An injury to the thoracic area may cause scar tissue to develop during the healing process. This scar tissue may lead to a compression of the nerves and blood vessels. Repetitive activities can also cause compression, especially activities that put the arms overhead. Slouching and dropping the shoulders is thought to be a common cause. This movement leads to tension in the muscles at the side of the neck and can constrict the nerves and arteries of the thoracic outlet.
Symptoms of Thoracic Outlet Syndrome?
The most common symptoms of TOS are:
Neck, shoulder, arm and hand pain
Poor circulation to the extremities
Weakness, numbness and fatigue in the arm and hand
The symptoms of TOS can appear to be other conditions, making it difficult to diagnose. Herniated disks in the neck, carpal tunnel syndrome and bursitis of the shoulder all have similar symptoms.
In order to correctly diagnose the condition, electrical tests of the nerves in the arm may be ordered by your doctor. These tests will attempt to determine where and how the nerves in your arm are being squeezed. There are other tests used to determine whether or not the blood vessels are also being squeezed. Your doctor may also perform an x-ray of your chest to determine if there is an extra cervical rib causing the symptoms.
http://intraspec.ca/tos.php#Definition